Welcome to our Weekly Wrap, where we cut through the noise to bring you our favourite insights from the technology and startup world.
Please keep the great feedback coming. If you love it, share away.
---
Fuelling the tech fire
Early in the pandemic, in our first ever Weekly Wrap we wrote:
In March, the world went into shock. In April, companies went into survival mode, quickly rolling out tech to support WFH and adapted business models - compressing into weeks what would have otherwise been 10 years of "digital" transformation.
Three months later, with no end to the pandemic in near sight, it is evident this cloud migration macro trend is only going to continue at speed. As Square Peg Capital's Paul Bassat explained this week, we're just at the start - making this an enticing space for VC investment:
We are essentially seeing pretty much all businesses are going to move to the cloud, we are 20 to 30 per cent into that journey so there's still a long way to go here.
Everyone is now well aware of the growing demand for cloud technology, leading to crazily high tech valuations. FAAMG (note the M for Microsoft, not the usual N for Netflix) combined with Tesla now make up half the value of the entire NASDAQ 100. MAGA (not to be confused with Trump's slogan) is now bigger than Japan's entire stock market. The mind boggles.
However what you may not know, or may not often think about, is that digital transformation and the surge in our internet usage has led to a huge, sudden influx in demand for cloud computing capacity and data storage.
What's more, these cloud infrastructure services make up a large and growing proportion of highly profitable revenue for Microsoft, Amazon and Google. MAGnificent.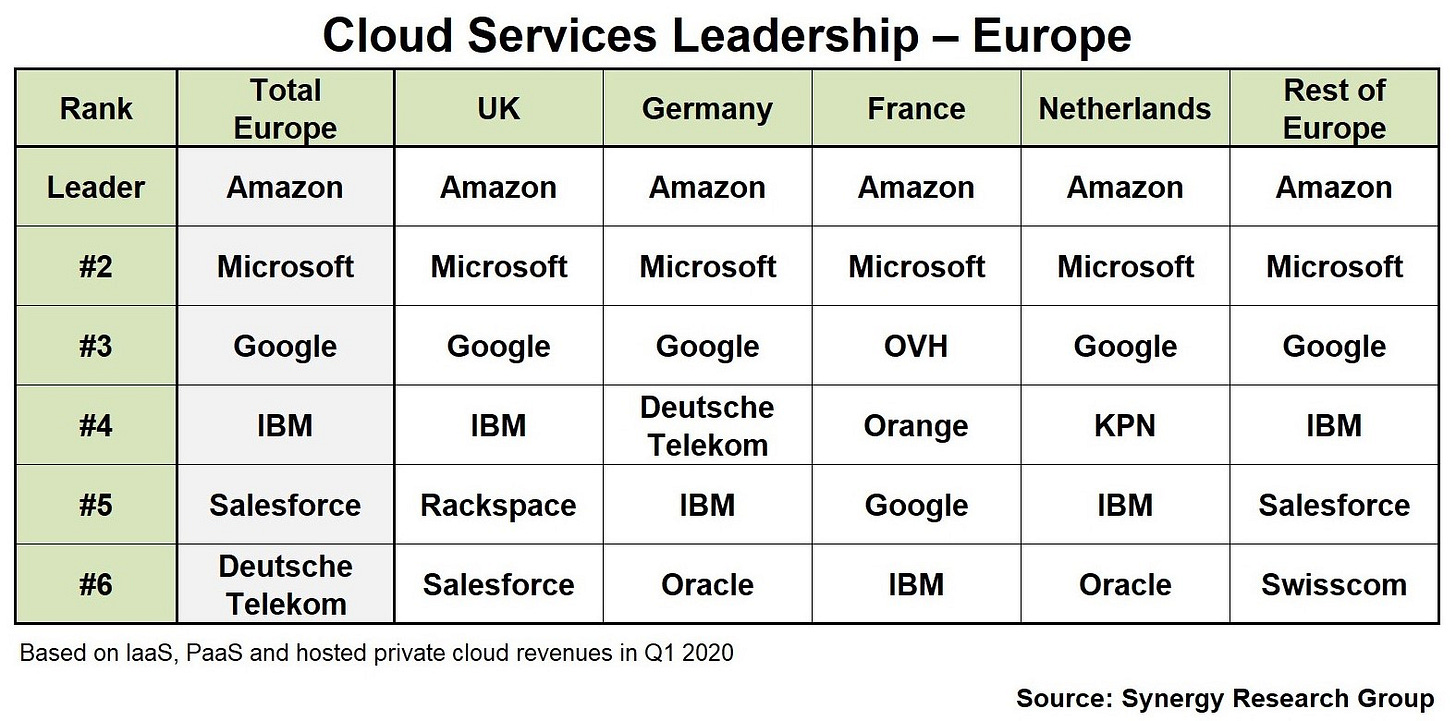 So this week, while old oil companies Shell and BP wipe billions off their asset value (US$22B and US$17.5B respectively to be precise), we take a look at the new oil mines that have sprung in the last decade: cloud infrastructure companies experiencing explosive growth.
---
The new oil mines - data centres 101
A quick explainer and history lesson - for our non-technical folk, in particular.
Every time you ask Google a question, buy a pet chicken on Facebook Marketplace, gossip about your coworkers on Slack, listen to Kanye on Spotify, stream Game of Thrones, or venture on a Tinder love quest, you are using the 'cloud'.
Asking the big questions. 👆 Australia's top Google search questions in 2019.
Despite its name, the 'cloud' isn't a mystical, fluffy beast floating in the ether. It is a metaphor for the Internet and the massive amounts of infrastructure powering it.
Ultimately, when you're on the Internet you are accessing data stored on servers that physically exist in a data centre somewhere in the world. Data centres are computer farms collecting, storing, processing and distributing large amounts of data.
Equinix's new $77.5 million data centre in Melbourne
From the outside, data centres look like boring office buildings. But they're actually impressive little hubs, each designed with uninterruptible power supplies, high-tech cooling and ventilation systems and (hopefully) impenetrable security measures. In a zombie apocalypse, data centres would be a safe place to hide for a while.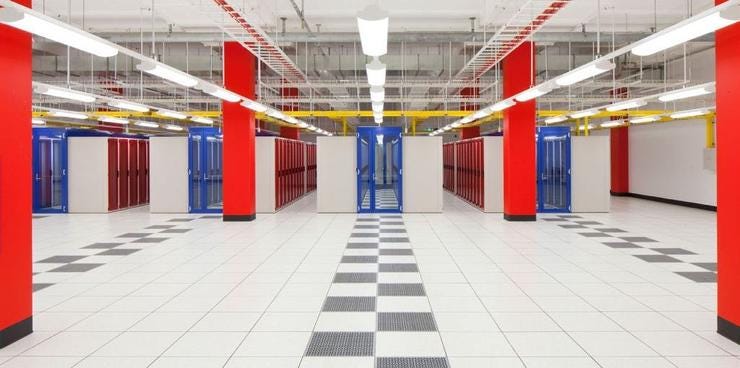 The data centre with sass (not sorry): NextDC data centres have a splash of colour. The cold aisle (blue) indicates where rack fronts can be accessed. The hot aisles (red) contain the exhaust air from every rack, which is taken away though the ceiling plenum.
There are lots of options when it comes to data centres:
Enabling innovation
This last option - IaaS - has been one of THE biggest enablers of tech innovation in recent years.
Once upon a time when Gavin was CTO at Hitwise (last decade), the team would purchase servers for delivery and configuration in their custom data centre in Melbourne, and then package them up and ship them off to ISPs around the world. You'd be insane to do that today - it would be a colossal waste of time and money.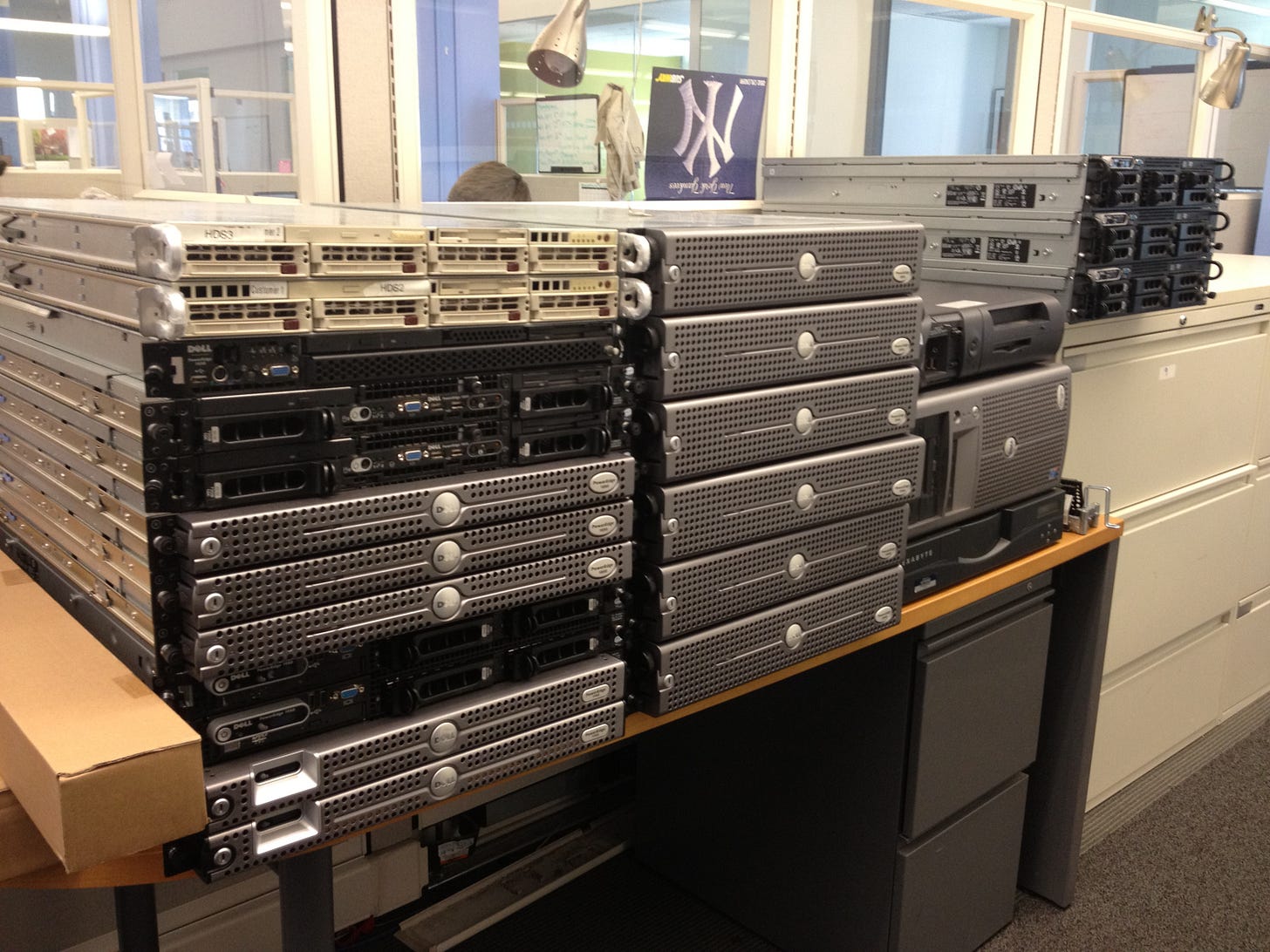 Hitwise servers being decommissioned in 2012. Great memories stacking and racking - "We used to wait 6+ weeks for a server to turn up and a week to rack it."
Now, a startup can build a minimum viable product relying on IaaS as the backbone. With a few clicks of a button you can have a virtual server up and running in minutes at minimal to no cost.
Why "cloud"? 🤓
Our unofficial interpretation of the history of cloud is that the term became popular because very smart engineers got sick of trying to explain complicated networks to lay people.
In telephony schematics and network diagrams a cloud-like blob would be used to depict the network. We imagine a Solutions Architect's presentation going a little something like this: "What's that blob, you ask? Oh, it's the network. No need to worry about what goes on in here, Mrs Bosslady/Mr Customerman. Pretty irrelevant."
---
No really, this is the new oil
Ok, now that the history lesson is over, let's get to the juicy part. What's news in the infrastructure space? Spoiler alert: 2020 is shaping up to be… huge!
Huge opportunity
According to Gartner, the managed services and cloud infrastructure services market is estimated to be US$410 billion in 2020 and is expected to grow 7% annually to $502 billion in 2023.
There is no shortage of players fighting for a share of the cloud infrastructure market. Competing in this space requires deep pockets and the ability to scale globally, so it's unlikely we'll see any smaller providers overthrow the incumbents any time soon.
That said, M&A activity is surpassing 2019 levels, investors are actively circling, and with strong public market activity, there is plenty of opportunity for future acquisition and investment in the infrastructure space. Just two (of many) quick examples:
Huge tech - MAG battling it out for top spot
MAG - Microsoft, Amazon and Google are the top of the class when it comes to cloud infrastructure. In terms of market share as at April 2020, AWS own around 32% of the market, Microsoft Azure 18% and Google Cloud 8%.
AWS and Azure combined have an annual revenue run rate of well over US$60 billion and they're growing fast - Azure's revenue rose 47% this quarter and AWS grew 33% last quarter.
Microsoft Azure is now ~$25B revenue run-rate business and it is still growing an astonishing 50% annually.
Quick related story: AWS and Microsoft are at battle over the US Military's 'JEDI' infrastructure contract - a 10-year agreement to build the government's war cloud. AWS sued the federal government after losing the JEDI contract to Microsoft, arguing that President Trump's animosity toward Amazon and Jeff Bezos corrupted the source-selection process. Huge.
Huge buildings. Huge Investment.
There are 541 hyperscale data centres in the world. 26 have opened this year, and there are another 176 to come - with Amazon and Google building half of these. Amazon, Microsoft, Google and IBM have the biggest footprint - each with 60 or more data centre locations.
Data centres are popping up hard and fast here in Australia too:
The next NextDC P2 data centre. Credit: Daniel De Carolis
It was only a few years ago that we had no option but to build our own data centres. This multi-billion dollar market didn't exist.
Imagine what will be possible in another decade.
If that doesn't get you excited about data centres and the backbone of the Internet, we don't know what will!
---
That's a wrap! We hope you enjoyed it.
Watch Gavin live on AusBiz at 2pm on Mondays, when he opens the Startup Hour of Power.
The team at Ignition Lane
p.s. we love feedback - if you have any or want to continue the conversation, please reach out.