Weekly Wrap #18: Zoom Kaboom, the Mental Health Boom, ANZ Startups to the Moon
Welcome to our Weekly Wrap, where we cut through the noise to bring you our favourite insights from the technology and startup world.
Please keep the great feedback coming. If you love the Weekly Wrap, share away.
---
Like a bat out of hell
Back in May—when virtual quiz nights ran rampant, Covid-themed playlists plagued Spotify and lockdown was finite—we pitted the top video conferencing tools head-to-head.
Zoom was the winner. Here's a snippet:
The team at Zoom have nailed their stand alone solution. Eric Yuan left Cisco WebEx in 2011 (taking more than 35 other WebEx engineers with him) to found Zoom after being frustrated that Cisco wasn't moving fast enough. The team have one focus: build one great video conferencing product.

Zoom's GTM approach hasn't really changed since its launch in 2013 and it is a great example of the freemium model done well. Freemium works for Zoom because it is an exceptional, viral product. As a result, Zoom has become a verb used in households worldwide - "let's Zoom".

April numbers: 300+ million daily meeting participants - a huge jump from 10 million back in December (also increasing Eric Yuan's net worth by over $4B).
At the time Zoom's share price ($ZM, not to be confused with $ZOOM) was $174 and climbing steadily.
On Monday Zoom released its results for the second quarter. To say that it exceeded everyone's expectations (ours included) is a giant understatement. The results sent its share price sky rocketing over 40% on Tuesday, adding "an eBay worth of market cap" ($37B), and peaking at $478.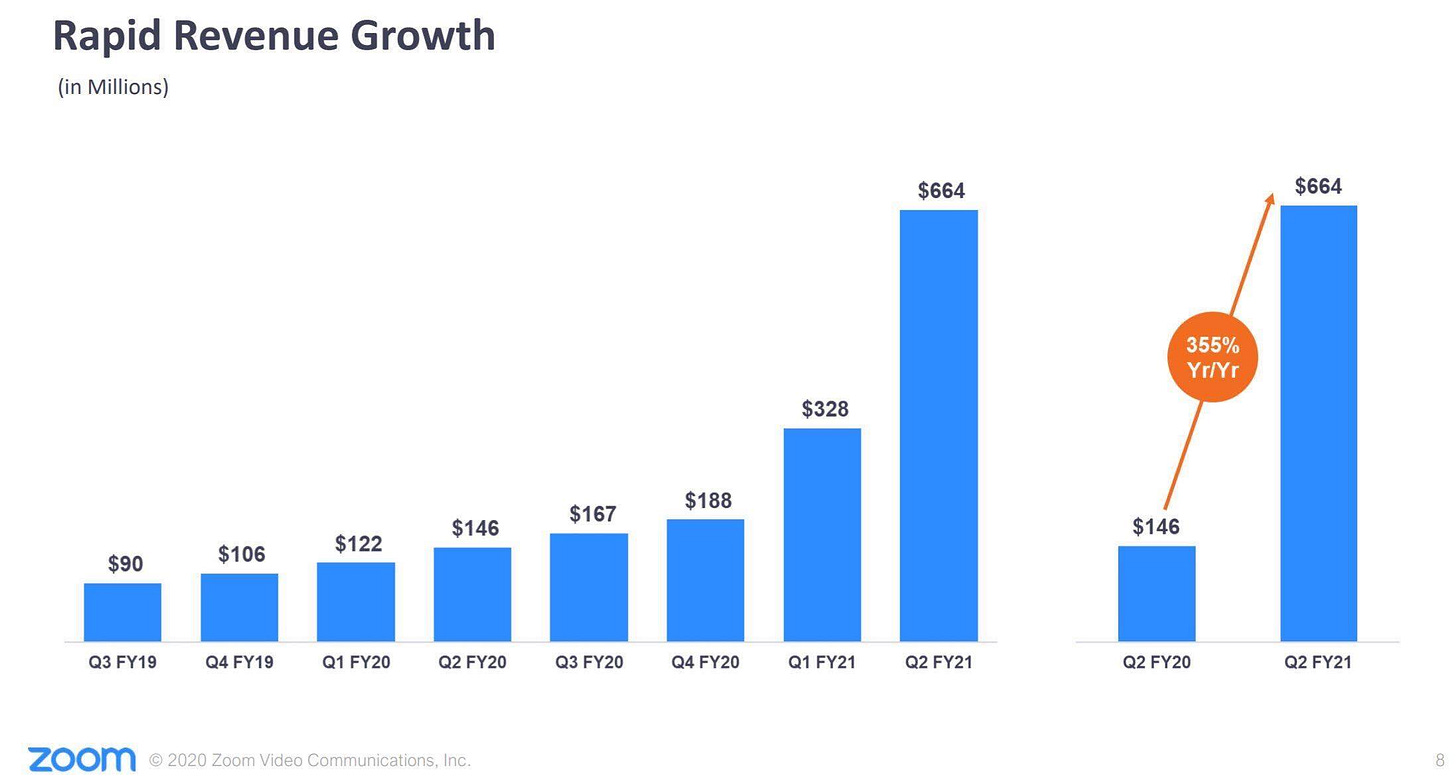 Zoom's quarterly growth metrics are astounding for a nine-year-old company, even by SaaS standards. What's most impressive about these results is that growth hasn't come at a cost to profitability:
Aaron Levie, Box CEO
With one "simple" product, Zoom has been able to surpass the valuation of 109-year-old IBM and etch closer and closer to the market cap of its 36-year-old arch-nemesis, Cisco.
Yes, Zoom was in the right place at the right time to benefit from Covid tailwinds. But let's not forget that the team had been busy building great business bones long before the world took notice. Recognising Zoom's strategy and execution back in 2019, prolific investor and SaaStr founder Jason Lemkin called Zoom's CEO "one of the greatest SaaS CEOs and founders of all times."
There are a couple of elements that make Zoom a unique growth beast:
Virality and capital efficiency

Zoom was the first tool to allow users to initiate a video call by simply sharing a link without requiring the other user to have a Zoom account. While it can be argued that this growth strategy comes at a cost to true network effects, it has had a profound effect on capital efficiency.

Zoom's cash burn has been tightly managed from the earliest days of the business. In the years leading up to IPO in 2019—years when a company would usually be burning through cash to scale—Zoom's burn remained close to $0. To achieve this, Jason Lemkin suggests the team were given a precise burn rate budget - good practice for any startup.

All the customers

Zoom has been able to create what is, quite possibly, the most diversified customer base on the planet. Usually this strategy is a big no-no for startups. Chasing a broad set of customers is expensive and distracting - different segments require different product functionality, marketing tactics and sales strategies. But thanks to the nature of the video conferencing product, coupled with the company's viral growth tactics, Zoom is able to service all markets efficiently and effectively.

It now has around 370,200 paying customers with more than 10 employees (up 458% YoY) with 988 of those paying more than $100,000 per year. What's more, the value of those customers continues to increase. It achieved a trailing 12-month net dollar expansion rate above 130% for the 9th consecutive quarter. Land, retain, expand. Kaboom.
So now the question on everyone's mind is, will Zoom be able to retain its spot as #1 video conferencing tool?
Currently Zoom's superior experience (UI, responsiveness, speed, sound) is its only defensibility. Some argue that's no moat. However Microsoft, Goole, Slack and Cisco's mature products each illustrate how difficult it is to clone Zoom's comparatively exceptional experience. And with a smart CEO who is as dedicated to customer experience as Yuan, that might just be enough.
---
Minding your own business
We've now been dealing with a pandemic for 6+ months. The novelty of working from home has long passed, exhaustion has settled in, and anxiety and emotions are high.
The good news is that the stigma around mental health is decreasing and there are plenty of startups working on alleviating the mental health problem - helping us calm our minds and connect with experts through these complex times.
According to the latest CB Insights report, venture funding for mental health startups is at a record high (where there's a problem, there's opportunity). In the first half of 2020 startups saw 106 rounds totalling over US$1b, so we're likely to see some great progress in this space in the years to come.
The cheques flowing into mental health are by no means small:
Here in Australia, Smiling Mind is working hard to help us build positive mental health. In partnership with conversational experience agency VERSA, its meditation app was recently added to Google Assistant, enabling us to access a meditation without having to look at a screen.
Equally, it has been awesome to see local startups like Who Gives A Crap and Elevio lead the way by supporting their teams with additional paid leave during lockdown. Parents with young kids at home will find this time-lapse video by Jodi Geddes, co-founder of Melbourne-based startup Circle In, all too relatable. We love their #askaparentiftheyareok campaign.
If you're in search of simple tactics to weave into everyday life, check out First Round Review's feature this week - 6 Small Steps for Handling the Emotional Ups and Downs at Work. Some of our favourites:
Reflect on one thing you're too hard on yourself about. Forgive yourself.

Think of one small thing someone could do to support you this week. Ask for it.

To get friends, family or colleagues to open up more, ask them scaling questions about how they're feeling, e.g. How stressed are you feeling on a scale from one to 10? What could move you from 8 to 7? When was the last time the score felt good? What was different about that time? How can we apply that today?
---
Rapid fire: News that caught our eye this week 🧐
Australia and NZ
Around the world:
---
That's a wrap! We hope you enjoyed it.
Gavin, Bex and the team at Ignition Lane
p.s. Happy Fathers Day. Sunday.
p.p.s. We love feedback - if you have any or want to continue the conversation, please reach out.
p.p.p.s. Watch Gavin live on AusBiz at 2pm on Mondays, when he opens the Startup Hour of Power.