Weekly Wrap #22: Stripe's Pipe, Billion Dollar Shoes and Marketplace Listings
Welcome to our Weekly Wrap, where we cut through the noise to bring you our favourite insights from the technology and startup world.
Please keep the great feedback coming. If you love the Weekly Wrap, share away.
---
The amazing online money pipe: Stripe
Stripe is one of the most incredible tech companies ever to exist. It was robbed of its #1 spot in the Forbes Cloud 100 last month.
In April Stripe was valued at US$36 billion. Thanks to the pandemic-fuelled ecommerce boom and rising cloud valuations it would certainly be worth much more than that today.
Its founders, Patrick and John Collison were once the world's youngest self-made billionaires. Aged just 21 and 23 when the product launched in 2011, they are now 30 and 32.
This week marks nine years since its product was officially launched.
So in honour of that milestone, we take a look at Stripe. What is it and how exactly did two brothers in their 20s build one of the world's most important companies… all in less than a decade?
Read on and you'll either feel inspired or woefully under accomplished. Or both.
Stripe 101
At its core, Stripe is a payment processor for online businesses. Its mission is to "increase the GDP of the internet".
Today, Stripe's tech powers the payments for over a million companies, including the biggest tech companies in the world - Amazon, Asos, The Guardian, Zoom, Slack, Spotify, Booking.com, Lyft, Uber, Deliveroo, Shopify, Salesforce and Facebook.
Any time you buy something online it's likely Stripe took a clip of that ticket. Cha-ching.
Two brothers from a tiny Irish town solving a big problem
Stripe was founded by two genius brothers from a rural village in Ireland. Patrick took his first University computer course when he was eight years old and began learning computer programming at the age of ten (!). At 16, he enrolled in maths at MIT. John—equally brilliant younger brother—followed Patrick to the US to study at Harvard.
At just 17 and 15 respectively, Patrick and John launched their first successful startup, Auctomatic – a SaaS platform for eBay power sellers to track inventory and traffic. They sold Auctomatic for $5 million in 2008, making them both millionaires.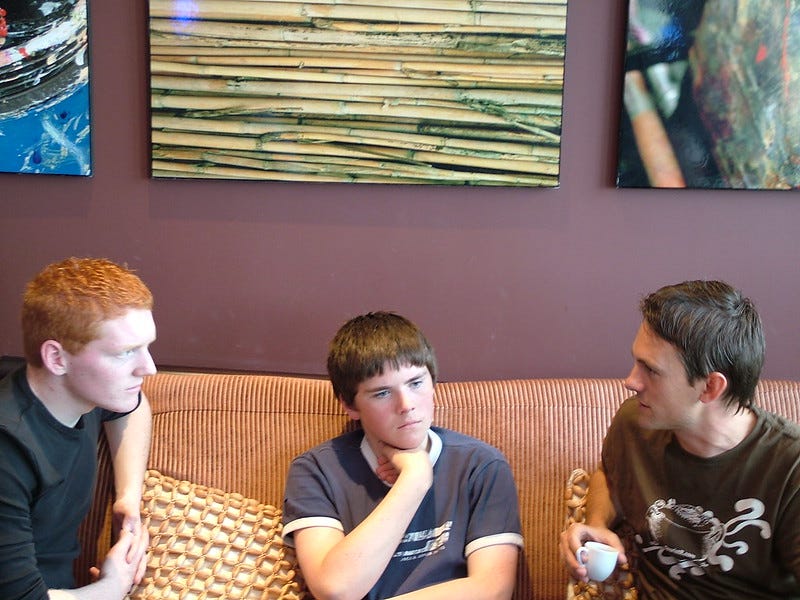 Collison Couch - Patrick (left) and John (middle) Collison being interviewed in 2007. Source: Bernie Goldbach
While dabbling in startups, the origins of an idea for Stripe were formed, as John once explained to Wired:
What we did discover pretty quickly was that the hardest part of starting an internet business isn't coming up with the idea, turning the idea into code or getting people to hear about it and pay for it. The hardest part was finding a way to accept customers' money. You could share a photograph on Facebook but you couldn't move money around in the same way. It felt like you were in the dark ages.
So the brothers secured some seed funding from Y Combinator, dropped out of MIT and Harvard and got to work building a better way for businesses to accept payments online. They spent nearly two years building the product, and forming relationships with banks, credit card companies, and regulators before launching to the public.
The result was magic. Stripe took a complex process that once took several days of development time and weeks of administration, and replaced it with a simple API. With Stripe, all a developer had to do was copy and paste a few lines of code to accept payments on a website.
Stripe solved a huge pain point for developers, while still appealing to the finance end of the business by offering transparent, simpler and sometimes cheaper fees than its competitors. It also improved customer experience by enabling users to stay on a site when making a payment, instead of being redirected to another site.
With timing on its side, coinciding with big strides in the growth of mobile penetration, ecommerce and cloud, Stripe grew organically without much effort, explains Patrick:
Initially it very much spread through a word of mouth process. That was surprising to us because it's a payment system not a social network so it's not something you'd think would have any virality whatsoever. But it became clear that everything else was so bad and so painful to work with that people actually were selling this to their friends.
In fact, the Collison brothers were solving such a big, timely pain point that they were able to attract pre-launch funding and millions in follow-on investment from the founders of its biggest competitor, PayPal - Peter Thiel and Elon Musk, as well as Sequoia Capital, Andreessen Horowitz and SV Angel. As Sequoia partner and chair, Michael Moritz (also a long-standing Stripe Board Member, with PayPal, Zappos and Google amongst his other biggest investment hits) explained in 2017:
The propeller of the good ship PayPal was pretty encrusted, and a lot of barnacles had formed on the hull since we invested in the company more than a decade earlier… The observation that accepting payments was still too difficult rang very true.
At the envy of many, many investors, Stripe has since raised US$1.6 billion. Australia's own Square Peg is one of a few VCs to call Stripe a portfolio company (check out a 2014 fireside chat between Paul Bassat and John Collison here).
Playing a thoughtful, long-term game
Fast-forward nine years and Stripe has a comprehensive suite of payment products for ecommerce, marketplaces and subscription platforms. It even has its own credit card offering and in-store solution.
Moving beyond payments, it now describes itself as "a technology company that builds economic infrastructure for the internet". To that end it has built solutions that help people launch and run a global internet business. A few examples:
Everything Stripe releases has an exceptional experience. A few weeks ago it was named a Leader in the Forrester Wave™ report on Global Merchant Payments Providers, achieving the highest scores by any ranked company in both strategy and current offering.
Meanwhile, Stripe is busy making investments into other startups that grow the online ecosystem - 21 investments and 8 acquisitions to date. Just this week it invested US$12 million into Manila-based online payment platform PayMongo. In March, it led a US$20 million raise for Fast - a platform-agnostic one-click login and checkout solution.
This all makes sense of course, because of its long-term game: the more businesses there are online, the more money Stripe makes. Just how much, you ask? Stripe generally charges 1.75-2.9% plus $0.30 per transaction. This leaves Stripe with approximately 0.5-1% of the transaction value. From millions of online companies. And that's before any revenue from its ancillary products.
It's this long-term thinking and customer-obsession that means Stripe continues to make itself more and more valuable to customers at every end of the spectrum. It manages to retain and grow big customers like Zoom (who would definitely have the engineering smarts to replicate Stripe's product but when that isn't its core business, why bother?), while getting into startups early and winning them over with enterprise-grade products that are seamless to implement.
A culture of moving thoughtfully and intentionally
From international growth to product releases to hiring, Stripe moves fast but deliberately. We've never heard a bad word about its culture (which can be rare in the startup world).
Recognising that it can't afford to compromise on people, Stripe has a practice of waiting to hire the right person, rather than rushing and mis-hiring. Patrick Collison spent nearly fifty hours to convince Claire Hughes Johnson to join them. As COO, she explains that Stripe's secret is to pause "just long enough to be very intentional about how you approach each phase of growth".
All of this translates into astronomical growth, even as payments have become commoditised.
So, how can you be like Stripe?
Solve a big (boring) problem.

Obsess over customer experience and built excellent products.

Think long-term.

Be thoughtful and intentional.
Oh, and being a child genius can't hurt.
---
Rapid fire: News that caught our eye this week 🧐
Australia and NZ:
Around the world (all in USD):
---
That's a wrap! We hope you enjoyed it.
Gavin, Bex and the team at Ignition Lane
p.s. We love feedback - if you have any or want to continue the conversation, please reach out.
p.p.s. Watch Gavin live on AusBiz at 2pm on Mondays, when he opens the Startup Hour of Power, which has now been running for six whole months - can you believe it?!