Welcome to our Weekly Wrap, where we cut through the noise to bring you our favourite insights from the technology and startup world.
Recently we've been writing about the accelerated shift to online and how behaviours, technology and processes have changed in the context of office work as a result of COVID. Video calls have exploded and the domino effect is taking shape as more companies announce their move to remote-first work (Shopify, Coinbase, Facebook, the list goes on).
This week we dive into another sector that has experienced decades worth of transformation almost overnight - retail.
---
The ecommerce rocketship
People have been forced to get comfortable with online shopping, fast. Now, assumptions about how we buy (and therefore, how companies should sell) are being reset.
Almost every day another retailer announces physical store closures. In Australia, Target (mostly converting to Kmart), Platypus (shifting to online) and Matt Blatt (acquired by Kogan.com) are the latest casualties.
The surge in demand for online retail is creating huge opportunity. Businesses that started using payment platform Stripe in March-April have already generated more than US$1 billion in revenue. And that's just one subset of ecommerce.
Direct to consumer (D2C) is also experiencing a boom. Even old school retail brands like PepsiCo (www.snacks.com) and Coke are dabbling in D2C. Woolworths Australia made a AU$4 million venture investment in a D2C startup. Cheetah, a B2B food delivery startup has raised US$36 million to pivot to a D2C model. Salesforce has released a "quick start" solution for anyone wanting to launch a D2C product. Rightly or wrongly, it seems everyone is having a go.
Amongst the current uncertainty, what's clear is that we need to test our assumptions. The ones that led us to success in the past may not hold true in the future. At its core, this means having deep knowledge of your customer, understanding their needs, drivers and habits, and factoring these into your strategies and roadmaps.
---
We broke AI with crazed buying
The Australian retail stats are out for April and they're not pretty.
So great was the fall that the spending in April was the lowest it has been in any month since 2015 – when Australia's population was some 1.5 million smaller.
Not only have we forever screwed with the scale on the retail growth time-series chart (above), but our panic buying behaviour has messed up AI models.
Machine-learning models trained on normal human [behaviour] are now finding that normal has changed, and some are no longer working as they should.
So, while AI and ML have advanced significantly in the last few years, we still need to keep an eye on the bots.
---
The end of supermarkets as we know it?
A recent McKinsey report highlights yet another massive behavioural shift as a result of COVID - online spending on food increased by between 16 and 70 percent during lockdowns in developed countries around the world.
Supermarket chains that were prepared for digital have reaped rewards in the last two months:
In the US, Walmart has been radically changing its business model over the past five years, aggressively expanding its online offering in order to defend against Amazon. According to one study of lockdown buying behaviours, more than half of the people who ordered groceries online for the first time chose to pop their ecommerce cherry with Walmart. This is reflected in Walmart's Q1FY21 results - ecommerce sales surged by 74% and quarterly net income rose relative to the same period last year, by 4% to US$4 billion… unlike Amazon.
In Britain, two stark contrasts are Aldi (no ecommerce investment) and Tesco (leading ecommerce since 2000). Aldi had negative sales growth in April (relative to a big March), whereas Tesco keeps growing. During just one week in April, Tesco fulfilled one million online orders. It has doubled its online capacity and still can't keep up with demand.
Meanwhile here in Australia, panic buying caused a 24% jump in supermarket sales, a logistics nightmare and embarrassing fights over toilet paper that went viral. And, disappointingly, we were the only country in McKinsey's study that went back to the internet dark ages as both Coles and Woolworths closed online ordering.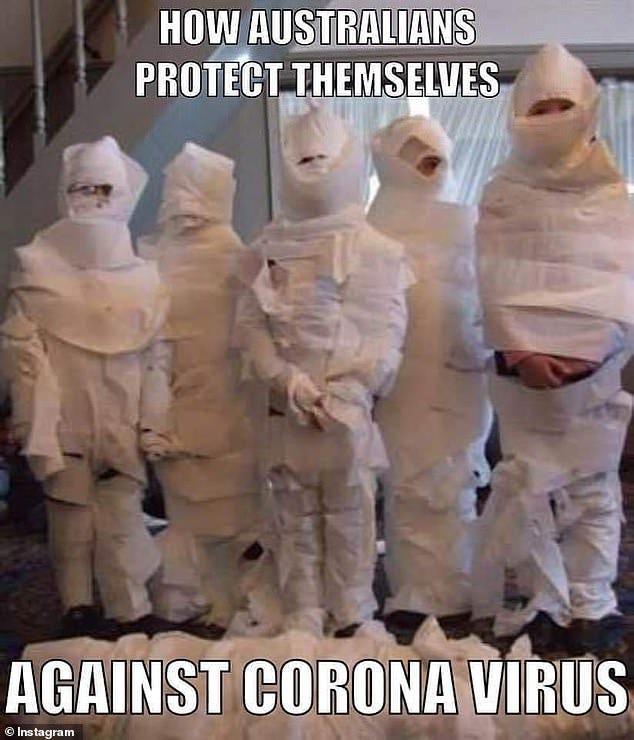 Without competition, there has been little impetus for either chain to significantly improve their online offering. In groceries, ecommerce delivers lower margins and last mile logistics is hard and expensive - even the behemoth that is Amazon still hasn't nailed it.
So it's probably not the end of physical supermarkets. But we should definitely expect to see a more streamlined shopping experience in the future. In fact, we're already seeing Woolworths accelerate its investment in technology. This week it announced an expansion of its experimentation with Amazon-Go style checkout free self-service.
Let's pause and take a moment to imagine the impact on the Coles and Woolworths results if either had chosen to invest more in technology and customer experience before COVID. A customer experience advantage would have been monumental. The same can be said for almost any other industry.
---
That's a wrap! We hope you enjoyed it. Please share with your friends and reach out if you want to continue the conversation of any themes in this week's wrap.
The team at Ignition Lane
p.s. we love feedback - if you have any, please let us know